This program is designed to identify and closely monitor patients at home who are at risk for complications from their disease process that may result in being admitted to the hospital. High-risk patients can have a variety of diagnoses, and quality for the program; however, our focus is on three main diagnoses: Chronic Obstructive Pulmonary Disease (COPD), Heart Failure (HF) and Diabetes Mellitus (DM). Patients identified as being at risk for heart failure complications or other disease-related complications are placed on a high-risk protocol with a customized treatment plan. Proven protocols will provide consistent education with the patient's level of health literacy in mind.
The patient is seen frequently in the beginning of care, and a strong focus is placed on patient assessment and medication reconciliation to prevent recurrence of disease symptoms and subsequent hospitalization.
Patient-centered goals are created with patient participation to empower patients and families to learn to manage their disease process. Patient and family involvement are strongly encouraged.
Attention is also paid to patients with a multitude of cardiovascular problems such as:
Atrial Fibrillation
Implantable Cardioverter Defibrillators or Permanent Pacemakers
Myocardial Infarctions (Heart Attacks)
Angioplasty and Cardiac Stents among others.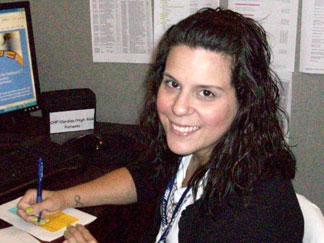 Kristen Ramos, RN, is the Cardiac/High Risk Specialist. She is a registered nurse with almost ten years' experience in Acute Cardiac Nursing. Kristen oversees the Cardiac/High Risk Program and makes routine visits with a cardiac focus, collaborates with the Primary Care Nurses and Physicians to assure each patient has met national standards in Cardiac Care which optimizes patient health, satisfaction and long-term outcomes. She directs her visits with an educational spin specialized for each patient. Kristen is also passionate about educating our staff and involved with our weekly High Risk Meetings along with our Clinical Nursing Supervisors and Staff Nurses to discuss complex patients and offer suggestions to improve our overall quality of care.
An evaluation visit is completed which includes:
Complete physical assessment
Medication reconciliation with the patient in the home to ensure the right medications are taken at the right time
Written medication list is provided for the patient
Pill box provided if needed
Distribution of a calendar to record daily weights, blood sugar tests and appointments
Telemonitor, if indicated
Appointment scheduled to see the physician within two weeks
Therapy referrals initiates as indicated
Home telemonitoring is also an integral part of the Cardiac/High Risk Program. A home telemonitor is a small device placed in the home, which is programmed to record vital signs daily: weight, blood pressure, heart rate, oxygen saturation and temperature. The telemonitor results are transmitted back to the Stratford VNA office and reviewed by a nurse daily. Using the telemonitoring system, we can detect changes in the patient's condition in between home visits and call the patient to gather more information, make a home visit, if needed, and call the physician for treatment changes, if needed, before the change in condition worsens and requires an emergency room visit or hospitalization.
The patient's role in the cardiac/high risk program:
Become an informed and active participant in your healthcare
Take ownership of your health management and set goals for your care
Adopt healthy behaviors/lifestyle
Keep all scheduled doctor appointments
Be available for your homecare visits and telephone interactions
Call the Stratford VNA first with any changes in your condition or questions about your care
Use the telemonitoring system each day, if indicated