Quality that is Proven
The Stratford VNA was named to the 2016 HomeCare Elite as one of the top 500 Home Care agencies in the country.  The HomeCare Elite list ranks the top 25% of all homecare agencies and is an annual compilation of the most successful home health care providers in the United States. This distinguished title is the only performance recognition of its kind in the homecare industry.
The Stratford VNA Quality Improvement Program is designed to achieve the following goals:
Ensure services are appropriate
Ensure services are effective
Ensure patient outcomes are positive
Ensure the competency of the staff
Ensure efficiency in allocation of agency resources
Ensure the VNA remains a resource to the community
National Studies and Local Collaboration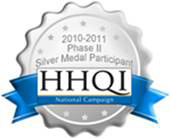 Stratford VNA has achieved Silver Status in the National LANE Project, a quality improvement initiative aimed at preventing avoidable hospitalizations. Early identification of patients at risk for hospitalization allows the Stratford VNA to develop specialty care plans and intervene to control symptoms and prevent emergency room visits and subsequent hospitalizations. Fall prevention and medication management are incorporated into each skilled visit to keep patients safe at home and patients and families are asked to use the "Call Us First" program. The Stratford VNA uses the "Call Us First" phrase to remind patients and families that nurses are available twenty four hours a day, seven days a week to help them when any new symptom occurs or a concern arises. Patients should always call us first before taking any other action except in an emergency. Early intervention by the VNA reduces the likelihood that symptoms will escalate requiring emergent care.
Beginning in 2009, the Stratford VNA volunteered to be a part of the National Pay for Performance Demonstration Project conducted by the Center for Medicare/Medicaid (CMS). This demonstration project is testing the proposed payment model for Medicare beneficiaries and will reward agencies that maintain patient outcomes in the top 20% nationally or show a marked improvement in clinical outcomes.